Specialized Finance - Project Finance

Infrastructure and (Renewable) Energy in the Benelux, France, Germany and UK.
We craft unique project financing solutions for major undertakings with a special focus on large infrastructure and (renewable) energy.

KBC' Project Finance team provides integrated project finance solutions to our clients, including structuring, arranging and underwriting both small-scale and large or complex project finance transactions.
We are a specialized team of dedicated and experienced professionals with long standing experience in project finance, for both Infrastructure and (Renewable) Energy.
We provide a pragmatic hands-on approach, market knowledge, tailor made financing solutions and access to a broad network.

We are a Brussels-based bank, which enables swift decision processes and close client links.
We offer operational support through a wide network of Corporate Business Centres and a team of professionals working at KBC's dealing and agency desk. As such, we can offer integrated financing structures that generate tailor-made solutions by providing a full range of products, including hedging, account bank, agency services, LC issuance and senior financing.
We are part of a wider origination team within KBC Securities, allowing us to support your projects with optional institutional financing solutions or by helping to find equity participations, as well as senior bank debt financing.
Our long-term relationship with KBC has led to great mutual trust.
Kristof Moens, CFO, Storm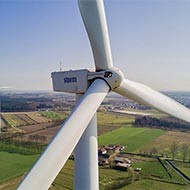 Who we serve
We work in close cooperation with our KBC Corporate Business Centres and have strong relationships with major stakeholders in our sectors (developers, construction groups, public authorities, investors,etc).
Next to Belgium, we can provide support in France, Germany, Luxembourg, the Netherlands and the United Kingdom and assist our clients in Central Europe via our KBC Group project finance teams in the Czech Republic, Slovakia, Hungary and Bulgaria.

What we do
We have been involved in every major infrastructure project in our home markets. Our expertise ranges from roads, railroads, locks and car parks to private and public buildings.
We are also a leading bank for (renewable) energy in our home market. Our teams were involved in the first offshore wind park developments in Belgium and our portfolio includes offshore and onshore wind parks, PV (solar), waste-to-energy, biomass and conventional energy plants.
Thanks to our long-standing experience in these sectors, we can offer our clients optimal financing solutions.
We also focus on financings in the wider energy eco-system ranging from energy savings over storage to new energy sources.
We were extremely glad to be able to count on the support of KBC throughout this journey and beyond.
Nathalie Oosterlinck CEO, Rentel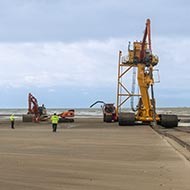 Added value
We are a leading project financier in our home markets and we use our expertise to the advantage of our clients. We start from the needs of our clients in order to provide them with services of the highest quality.
The integration of the Origination team into KBC Securities and the support we get from KBC Corporate Banking allow us to offer you a wide range of integrated solutions, ranging from complex equity and debt financing solutions to offerings for smaller (renewable) projects.